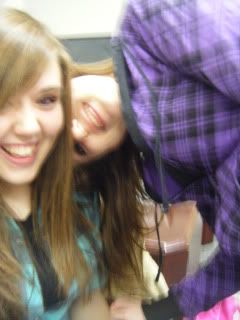 A picture of a habit you wish you didn't have.
No matter how hard I laugh my eyes
always
water. To the point that I'm basically crying when I laugh. I don't even know how many times I'm sitting there laughing about something and someone walks up and goes, "Oh my God, Kate! What's wrong?! Why are you crying?!" And then I have to go on and explain how I cry when I laugh. Which makes my friends laugh because they know how much it annoys me. Which makes me laugh because when other people laugh I can't help but laugh to. I laugh pretty easily. It's gotten so bad that I now wear almost all waterproof make up. I don't want my make up to always be running, but waterproof make up is impossible to take off.
(I'm not sure if this is actually a habit? I mean it's not really voluntary. Obviously I'd stop it if I could. But my other habit is picking at my cuticles. I tried to find a picture on Google, but that was a mistake. The pictures were so gross, I couldn't share that one with you guys.)
(In case you hadn't noticed I'd like to point out my pink/red eye. Last spring I got sick and then after that my eye got all blood shot and was constantly irritated. It got to the point where I couldn't wear a contact on that eye. It was so gross. And of course I got made fun of. All the time.)
Well, my friend's texting me about the trig homework so I better go do that (why do I always post when I should be doing my trig homework? Literally, the only times I blog are when I have trig homework to do). Oh, and I have some other things I want to blog about. So that'll happen very soon!